How To Decorate with Stripes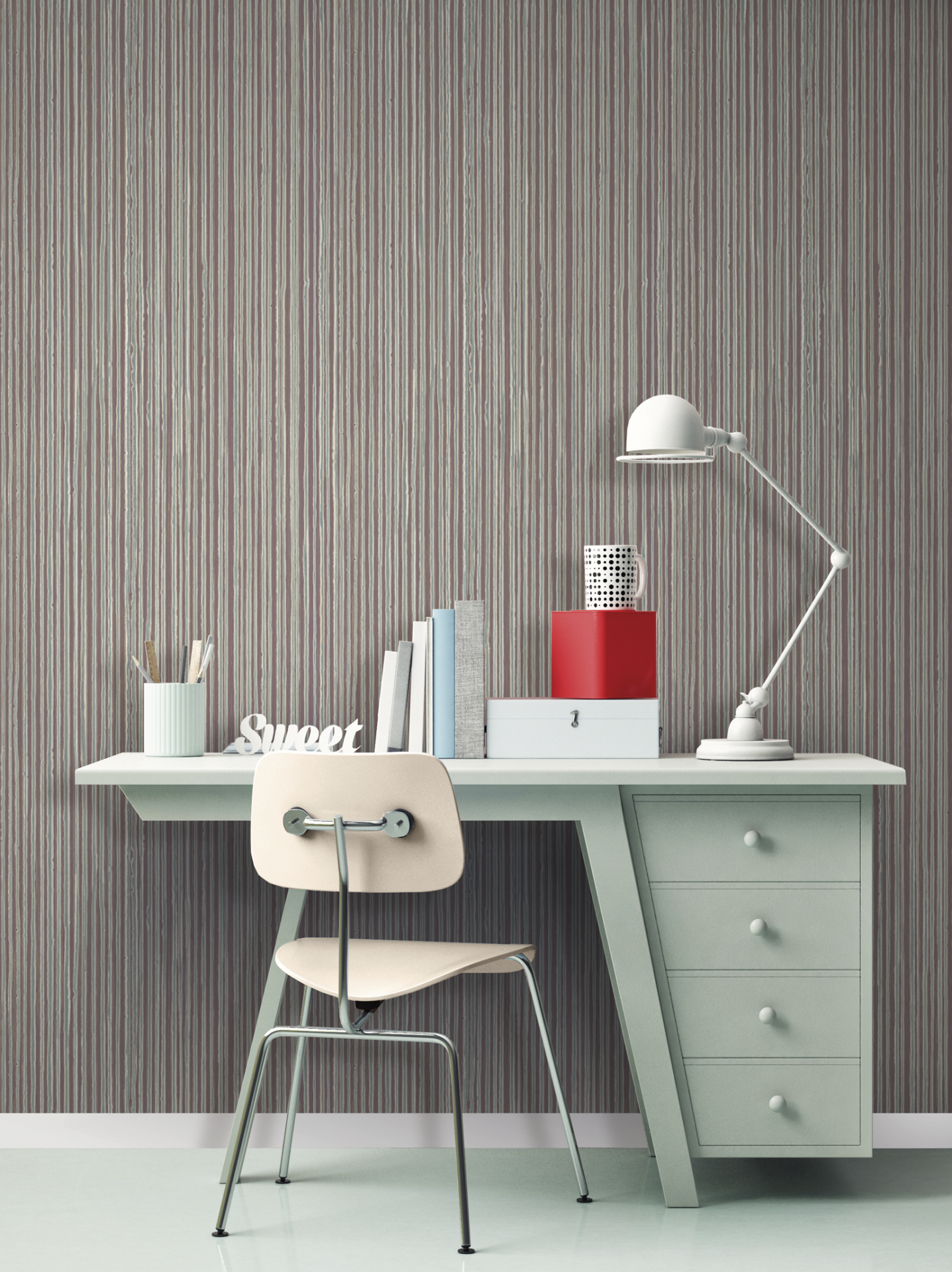 If you're searching for some fresh interiors inspiration as the seasons change, stripes could be the answer. Enduringly popular – and endlessly versatile – stripes suit every space and room size. They can be bold and bright, soft and subdued, traditional or modern. In fact, there's no limit to the way in which stripes can be introduced to your décor.
Perhaps you've never experimented with stripes before? Well, don't be daunted! If you're not quite ready for that striped statement wall, there are plenty of other options, including flooring and accessories. Don't forget that stripes are a classic staple within the world of fashion as well as interiors. So there's no shortage of striped inspiration out there to help you kick-start your creative process. Browse the web and scroll through social media – both are great sources for striped examples and design ideas.
The Marvel of Marble 
Our wallpaper designer Elizabeth Ockford is a stripe connoisseur and she knows exactly how to harness this popular trend. Her new signature Gingko collection is the perfect reflection of the nation's fondness for stripes in fashion and the home. We think that her striped Marble wallpaper is the ideal choice for new decorating projects. The design is fuss-free, super versatile and timeless – what more could you ask for!
Natural stone such as marble often incorporates stripy patterns or bands, which deliver such a unique appearance. Elizabeth has added subtle gold threads to her Marble designs and printed the paper on textured Mica. This gives a richer, more luxurious look and feel for that upscale effect.
The complete Gingko collection features no fewer than 50 papers and nine innovative designs. This includes Marble, which comprises five colour ways, from warm pinks to neutral tones. The breadth of our range means you're sure to find a wallpaper to suit you and your home. All of our papers are available from Wallpaperdirect in the UK and various other stockists internationally.
Take the floor
If you're not sure about stripes on your walls, why not consider stripes beneath your feet? Striped carpets and rugs are an excellent way to add interest to a room. Used correctly, they can even reshape a space, widening and lengthening the appearance of a room. We adore this stunning Audrey Sunrise carpet, available to buy from Tailored Flooring. Created by Crucial Trading, known for its innovative use of colour, this is the go-to brand if you've set your heart on striking stripes.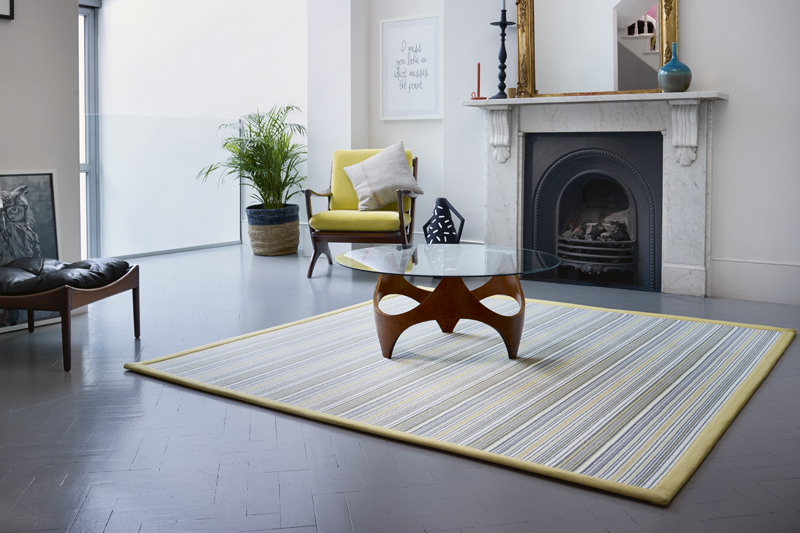 If you're after something a little less bold, a striped rug is great way to trial the trend. We love the subtle pop of yellow in this Wool Biscayne Lemon number from The Natural Rug Store. Rugs like this are a great way to highlight a room's accent colour, within a neutral palette. The combination of wide and narrow stripes adds extra interest.
Dining Delights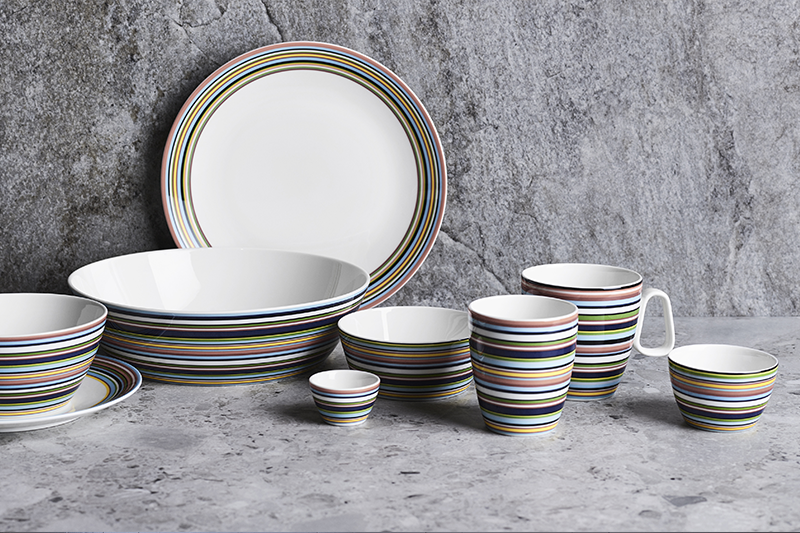 If you're not quite ready to take the plunge with flooring, why not test the waters with some striped tableware? Plates, bowls and cups are a low-risk way to introduce some stripes into your home. And they're a brilliant start to give a fast refresh to your dining area, especially if your budget is tight. Choose a shade of stripe that complements your existing colour scheme. Or mix and match a kaleidoscope of colours, for maximum impact. We love this Littala dinnerware set by Alfredo Haberli from Dream Icons. We think this bold, contemporary tableware will add a cheerful, colourful accent to any dining setting.
Dream Scene
Now you're warming to the idea of stripes in your home, it's time to work upwards. Stripes work really well in bedrooms and are an easy way to update your sleeping space. Striped bedding breathes new life into any bedroom and is a great compromise if you're not quite ready for striped walls or floors. Horizontal stripes can even give the illusion that your bed is bigger, so don't be afraid to experiment with a modern, playful design. And remember that stripes mix beautifully with florals and other patterns. We adore how this classic, two-tone bedding from Sophie Robinson, available from Secret Linen Store, works so well with the yellow velvet headboard!
All about the accessories
We know cushions are a fail-safe way to enliven a neutral sofa or chair – and they even work well outdoors. Be inspired by this colourful collection of Striped Piped cushions from The Stripes Company. They're piped across the middle on both sides, with stripes travelling in opposite directions, for maximum interest. The perfect scatter cushions for any sofa or bed!
If you've plenty of budget to blow, high-end Italian fashion house Missoni is the brand to browse. Its colourful knitwear designs are instantly recognisable the world over, thanks to its iconic waves, zigzags – and stripes. Treat your bathroom (and yourself) to these luxury bath towels from Neiman Marcus. We love them all, but the Blue might just be our favourite!
We hope we've provided some useful stripe inspiration for your next interiors project. Don't forget to browse all our wallpaper collections (striped, patterned and plain) by clicking here.