House Tours with Livingetc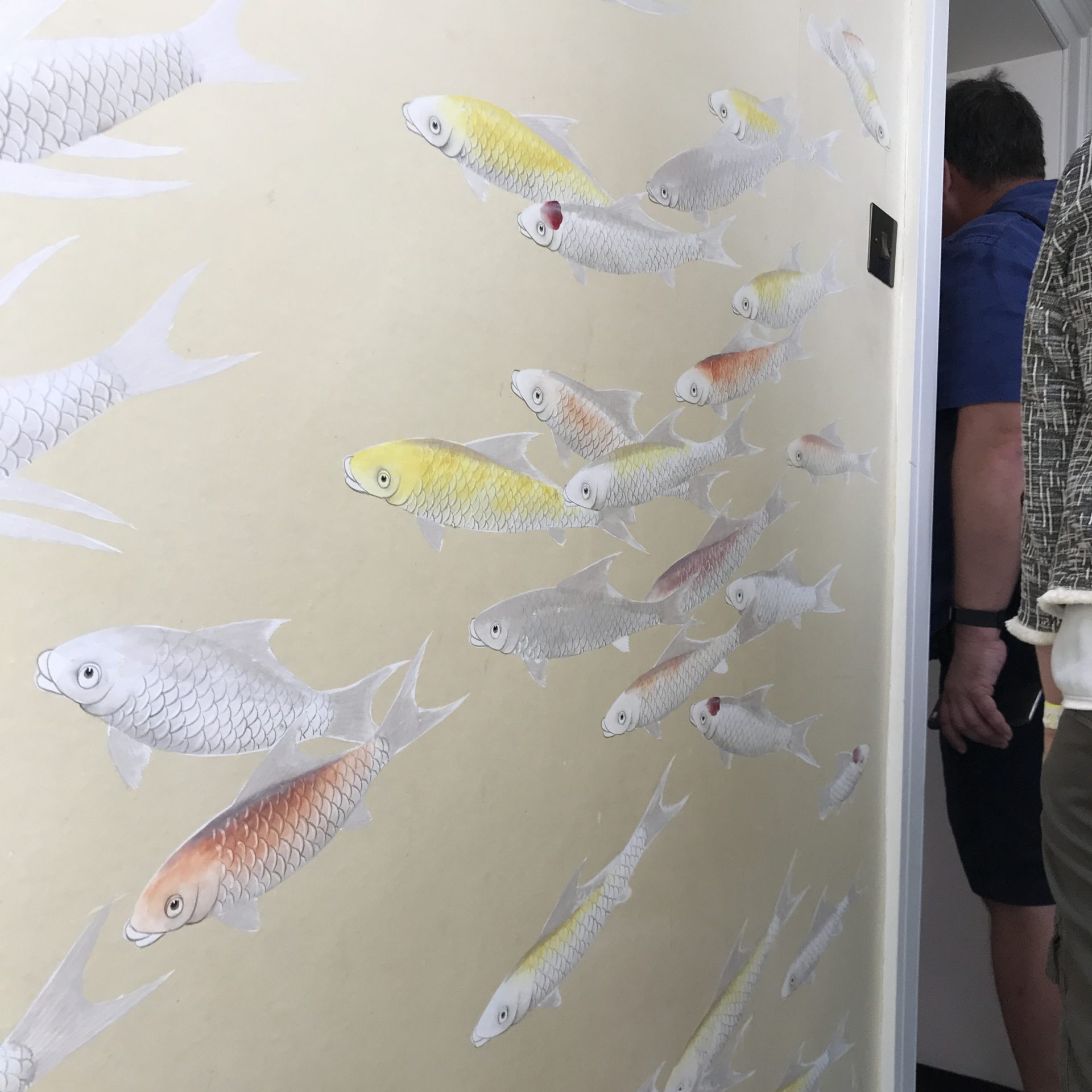 Livingetc's House Tours provide the perfect chance for a sneak peek into some gorgeous homes. So, when our creative director and wallpaper designer Elizabeth Ockford was invited to join them, she accepted straight away. Every year, this stylish magazine carefully curates their favourite houses, which have graced their glossy pages. Last Friday, Elizabeth spent a treat of a day visiting these and this is what she found:
"The weather was blissful – sunny and balmy, with a gentle breeze. Although when standing in the Posh Queue on the doorstep of each home, it sometimes felt a little too warm on the pavement under the sun.
Dark and Mysterious
A smart early Victorian terraced house was our first port of call on the House Tours and it instantly conveyed a very black mood. I loved the hat moulds that were lined up as you walked up the stripped staircase. Repetition often works really well with collections of quirky items. I wanted to stroke each of them – much as I often do when I meet men with shiny bald heads. Needless to say, I resisted.
In the basement was a quirky feature – one small corner wallpapered in digital print that imitated the way the house would have originally looked – I loved it.
There was a lot of very dark grey, blue and black in this home. I think it sometimes works better when punctuated by the occasional dash of colour – which I saw in some part in House 2, where flowers or a rug had been used to create a bit of positive colour energy – but for me both houses were just too stylish to be any fun.
The green in the main bedroom was very pleasing though, and I was impressed by how well it worked going up and over the ceiling – it didn't make the room feel dark at all, more a soft wrap of colour. They were painted in Pier View matt emulsion from the Crown Paint Archive Collection.
Muted Colour
House 3 was different – and I breathed a sigh of relief when I walked in the door and saw blue, green and a beautiful dark aubergine stair carpet. Things got even better when, in the living room, they had a Peter Blake over the mantelpiece – one of my all time hero painters.
They even had the tiniest bit of wallpaper up in the Tiniest Room on the landing where De Gournays Deco Monkeys were running riot, watched keenly by a gaggle of dolls on the cistern.
Fun and Stylish
I really enjoyed looking around this house with its sense of humour as well as good taste in harmonious colours.
The main bedroom had a wonderful upholstered bed covered in Svenskt Tenn fabric. Very feminine while still being bold and interesting – the sage green walls kept the room gender neutral.
In the girl's bedroom they had improvised a really good Barbie dolls house from a set of shelves – it made me think of all the gorgeous papers we do that would look so lovely in a dolls house like that. Now, which little girl do I know that I could make one of those for…?
By this time I was beginning to feel a little jaded from the House Tours, so just had to stop for light refreshments at Violet Bakery around the corner. Sitting at one of their pavement tables with the sun on my face and THE most delicious chocolate brownie, I didn't want to move on. I could tell exactly why Meghan wanted her wedding cake from here.
Flowers and Fish
House 4 was another delight, with a soft ochre hallway, framed by the prettiest 1930's daisy round mirror. Although the owners of this house hadn't used much wallpaper, they had used some pattern, in a restrained and tasteful way. Up on the top landing a shoal of ornamental carp floated past.
(I'm not sure who this paper is by, but similar ones can be found at De Gourney or Pierre Frey)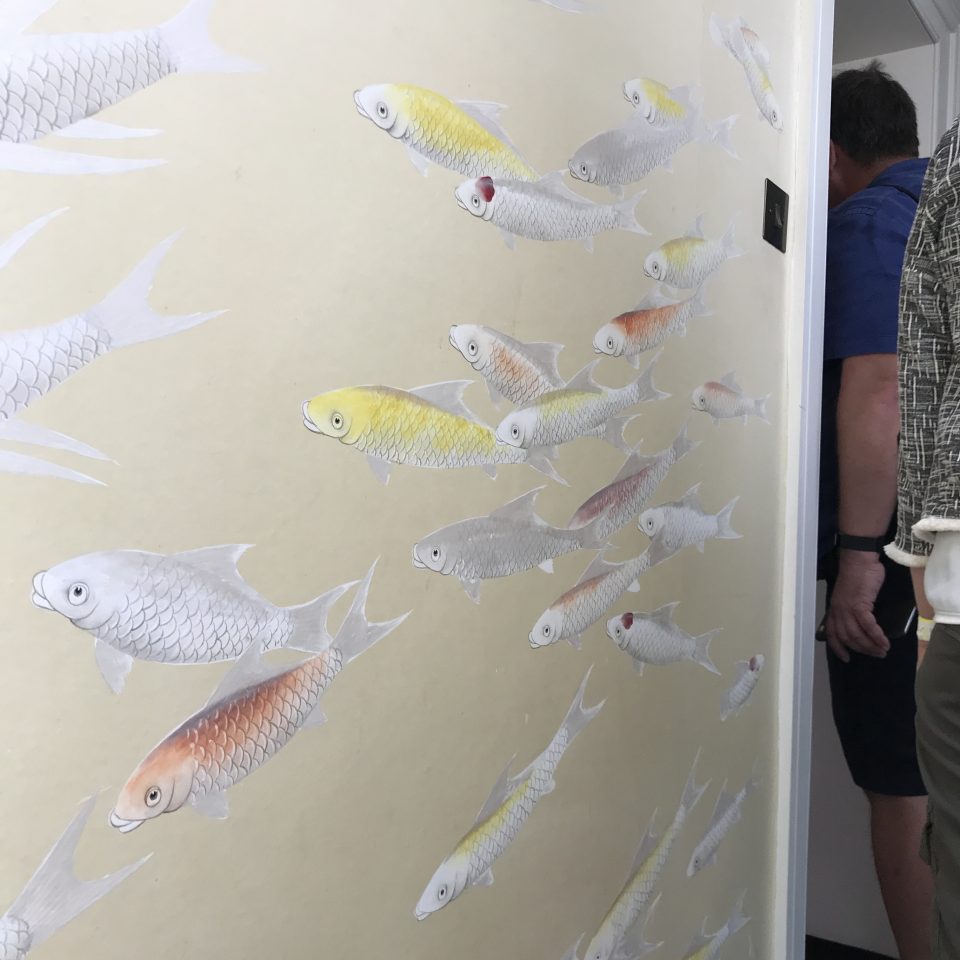 The colour palette in the master bedroom was serene, water green with a fresco of Wisteria, and a beautiful raw silk umber curtain.
However, the little girl's bedroom held the most wonderful surprise – a secret hideaway up in the rafters of a converted loft! Everyone that walked into that room gasped as they looked up.
Kitchens and Gardens
Back downstairs and the kitchen had shafts of light flooding it from three ceiling windows. This gave it a soft feel and complemented the copper and white colour scheme. Through a large window, you could see down the garden to a treasure of a summerhouse – my future studio (I wish). Outside this, the carp appeared again, real ones this time, in two large pools.
And then I had to leave. Hackney is over two hours away from my studio in Sussex, and the end of the school day was looming!
As I looked out over the Thames on my train journey home, I reflected on the day. The four houses I saw at this year's House Tours event were interesting and a little inspiring.
I think what I appreciated most was that although the homes on the House Tours had seemed perfect on the pages of a glossy magazine, you could really imagine how people live in them on a daily basis; they were quite literally brought to life. I enjoyed looking around – but I won't miss the compulsory glamorous footwear!