New year, new wallpaper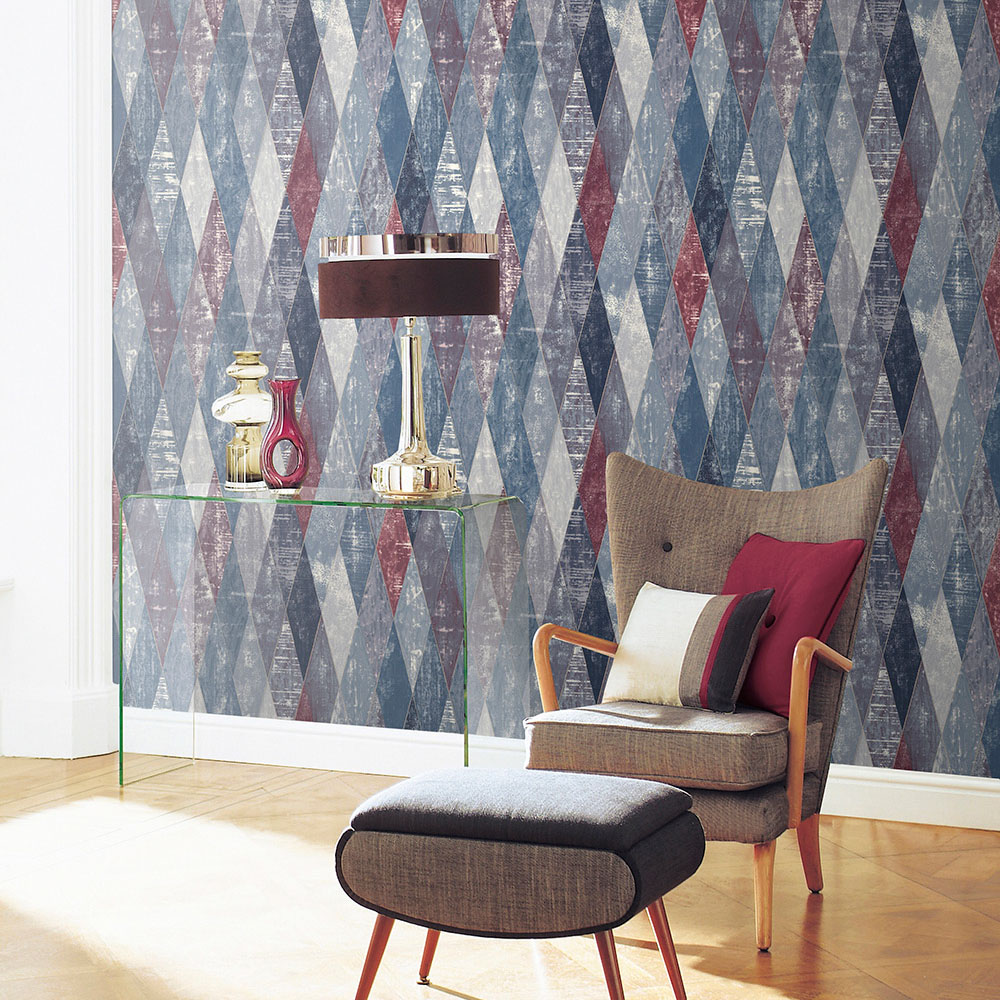 As wallpaper has become a more permanent fixture in the home, why not be more experimental with its uses? Of course the feature wall may still be your firm favourite. But these days you can use every possible pattern, colour and style to reflect your personality across all four walls. So, if your New Year's resolution is to better your home, follow our expert advice for the latest paper perfection. And, as a result, be prepared to be inspired by an eclectic mix of metallics, retro glamour and surface texture style. After all, these latest interior trends have influenced one of our carefully curated 2018 collections, Highbrook. So read on and enjoy!
Beautifully Bosham
Didn't you know diamonds are a girl's best friend? Well, 'diamonds' of all sizes are also big news in interior design. So we suggest you welcome Bosham into your home and you won't be disappointed. Within our Highbrook collection, this retro-inspired, two-tone diamond pattern reflects 50s and 60s vintage glamour with a twist.
Fabulously Fontwell
How about a large-scale harlequin design for your walls? Strictly for making a statement at home, the gorgeously bold Fontwell  print showcases surface texture within each block of colour for instant depth, space and interest. Our designer Elizabeth Ockford cleverly hand-painted the pattern in our studio to create this dramatic effect. Furthermore, did you know gold is the metal of the moment in interior design? As a result, Elizabeth has run a thread of this striking colour through the pattern for a luxurious finishing touch.
 Creative Coleton
Looking for large-scale linear patterns from your wallpaper? Well, you'll love this hot trend laced with geometrics with influence taken from Art Deco times with plenty of 70s character. Coleton is most noteworthy for those who want to bring their walls instantly to life. With a creative combination of prominent lines and sweeping curves, you can instantly bring an element of interest into your home. Add a finely raised texture on a backdrop of broken horizontal lines resembling woven fabric and you have a striking pattern to behold.
Sophisticated Sackville
If you want to experiment with a new wallpaper, our Sackville could be just what you are looking for. A fine metallic stripe over a linen-look paper produces a subtle finish and highlights the latest trend for a textured effect on paper.
What do you think of Highbrook? We have got a huge collection made up of 52 papers and eight original ranges – Hurst, Sackville, Coleton, Milne, Vita, Bosham, Knole and Fontwell. Each is available in a multitude of colourways and we would love to hear your comments! And once you have delved into this one, don't forget to look at our other collections here.